4 Easy Steps for Creating Highly Targeted Facebook Ads to Increase Facebook Likes
Have you ever tried Facebook Ads for the purpose of driving traffic to your website?
If yes, then you know how less pricey and more cost-effective it is. If not, then it is time for you to give it a try. Seriously!
To increase their ROIs, more and more marketers now rely on highly targeted paid Facebook Ads for driving traffic rather than spending vast amount of money on attracting organic traffic. It is a fact!
Getting back to our main topic…What about using Facebook Ads to increase Facebook likes?
Here, again, one of the keys is in creating HIGHLY TARGETED ads. But, how?
Follow these 4 easy steps to do it exactly right:
Step #1: Set Your Ad Campaign's Objective
Just like for any activity you do in marketing, you need to have a specific objective set for that specific action of yours.
Marketing objectives can be of different kinds. Let's bring several such examples in a question from: Are you trying to increase brand awareness? Is your goal to engage your audience? Or, are you straightforwardly trying to drive traffic to your website landing page?
Do you get it now? The logic is really simple. You need to know the reason behind every action of yours.
So, in order to create a highly targeted Facebook Ad that will bring lots of likes to your own Facebook page, the objective of your ad campaign would be to engage the audience. Right?
Right! Now, go ahead and select Page likes under the "Engagement" tab and then type "Facebook Likes" in the "Campaign Name" field, as shown below.

Step #2: Target People Within Your Business's Target Demographic
When choosing who you want your Facebook ad campaign to see, you need to be very careful, as it has a profound effect on its end results. In the end, you want more Facebook likes, don't you?
Those people that are within your business's target demographic are more likely to like your Facebook page than those who have nothing to do with your business.
For instance, if you are a brick-and-mortar restaurant in Salt Lake City, people from Salt Lake City would be your ideal target audience, rather than anyone from China. You see the point?

Now, go ahead and fill in all the required information based on the same logic described above, taking the above example as a guide for you.
One very important thing, though! Don't forget to "Exclude people who like your Page" from the bottom "Connections" section. Otherwise, it would be a waste of money to advertise for liking your page to those people who already do.
Step #3: Check Your Audience Size
The potential audience size for the highly targeted Facebook Ad of yours gives you a great insight into how many people you will reach, who are more likely to be interested in your business, thus liking your Facebook page, based on all the parameters you have put in the previous stage.
The ideal audience size to begin with Facebook Ads is between 100,000 and 500,000. Try to find an audience of that size and set a daily budget no less than $10 for the start. Now, see how much you will increase your Facebook likes daily, estimated by Facebook.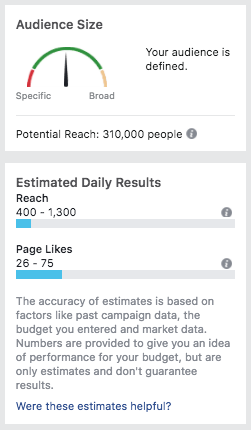 If that number doesn't satisfy you, you can always optimize your ads, set higher daily budgets and reach more and more fans, who would be willing to like and follow your Facebook Page.
Step #4: Create Your Ad
The final step has come! And, it is the most enjoyable step to complete.
Now, make sure to write a catchy headline for your Facebook Add, indicating what your potential customers will get when liking the page. And, don't forget to use great imagery, that are irresistible to not look at.